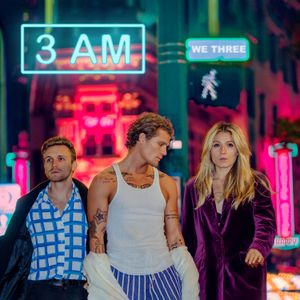 John Campbell – a music industry veteran started up JC Music as a lad growing up near London, and then in 2005 formed Palawan Productions a UK/ US based Music umbrella with a select roster of songwriters. 
Unable to gain access to any live shows in the early 80's he made a business card for JC Music (he looked much older than his years) and introduced himself to then-editor of Record Mirror, Peter Jones. Jones credited him as a journalist, allowing him backstage access to shows that most could only dream of. 
That foot in the door garnered debut reviews from Mick Jagger, David Bowie, Elton….and many, many, others 
All were extremely helpful and wanted to give a very young journalist a leg up. 
Politics had its calling and as a Liberal Democrat, he was the youngest Parliamentary candidate in the UK, standing in Wigan, and 4 years later in Manchester. 
 Fast Forward to the 2000's and Campbell managed and worked alongside many A-List artists: Paul McCartney, Robin Gibb, Babyface, Sheryl Crow, Wyclef Jean, to name a few. He also found success with chart topping acts Shakespears Sister and Lena Fiagbe. 
Whilst managing Bee Gee, Robin Gibb and following the death of his twin brother Maurice, Robin suggested Campbell relocate to the US to further exploit the massive Bee Gee catalogue, so in 2005 he did just that. 
'For me it's always about the song' explains John, 'the melody and lyric come before all else, I am attracted to writers like a Bee to honey " 
Currently he continues to focus on top tier songwriters and has been recording and releasing, even during the Covid lockdown. One of his artists, neo-Soul teenager Nyah Grace, has woken up the Soul/RnB world with her self-penned tracks and sensual delivery. 
Sibling trio sensation We Three are on their 3rd studio album and have organically accrued 1 million followers on TikToK - 'They are manifesting a huge trajectory in their growth and are destined to become the next great Stadium band' - CAA's Mario Tirado. 
" We Three are the perfect act for Palawan " Says Campbell. 
" They are brilliant musicians, extraordinary songwriters,and amazing Live performers. We have US Summer dates precede a September tour followed by UK and Europe in October, I really believe that 2022 will the the breakthrough year for We Three..."He adds. 
AGT finalist Jimmie Herrod (also Live vocalist with Pink Martini) whose jazz renditions propelled him to a residency in Las Vegas, is currently finishing writing tracks for his first solo album. 
They join a select roster that includes critically acclaimed alt folk act "Robinson", and Robin Gibb endorsed – "The Somebodys" an eclectic alt version of Bee Gees covers. 
Many record labels made A&R answerable to lawyers and accountants. This generic formula has stifled creativity. At Palawan we PARTNER with the artist's. We bring our business knowledge and assist in the creative process - as a team - sharing the decisions with ONE voice and driving head on into the new digital world embracing ALL the incredible Social Platforms.